Tiopez won Miss Leyte Pintados 2004
By ROCHELLE A. DELOS SANTOS
June 29, 2004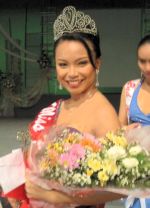 TACLOBAN CITY - Genelyn A. Tiopez, was crowned Miss Leyte Pintados 2004 on June 27, 2004, at the Human Resource Development Center (HRDC), Leyte Normal University in Tacloban City. She was candidate no. 11 of the 11 lovely aspirants vying for the prestigious title of Miss Leyte Pintados 2004.
Though she did not won any special awards, Miss Tiopez managed to be in the top 5 finalists and eventually won the title with her outstanding respond to every questions. Aside from winning the crown, she also received a cash prize of P25,000.00, a trophy, plus a sash and bouquet.
The first runner-up was Angeli Pauline T. Salinas, candidate no. 8, and the second runner-up was Frances Mae A. Makabenta, candidate no. 10, who also received a cash prize of P15,000.00 and P10,000.00 respectively aside from their trophy with sash and bouquet. Miss Makabenta also won three other special awards as Best in Costume, Best in Swimsuit and Miss Congeniality.
The 2 others among the top 5 finalists were Casandra June A. Dayola, candidate no. 4; and Karen A. Jaro, candidate no. 6. Miss Dayola also won four other special awards as the Best in Gown, Miss Telegenic, Miss Bayantel and Miss Derma Blend while Miss Jaro also won two other special awards as Miss Photogenic and Miss Talent.
Lovely J. Lagario, candidate no. 5, won the Globe Texters Choice special award which entitled her to receive a Nokia 3515 Phonekit from Globe Telecom.
The 9-member panel of judges was chaired by Mr. Douglas Nierras, a native of Tacloban City who is now renowned for his Douglas Nierras Power Dance group whose performance received admiration from the different parts of the world. His Power Dance Group was the sole guest performer during the search.
The annual beauty pageant was part of the fiesta celebration of the city organized by the Pintados Foundation, Inc.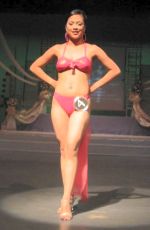 | candidates profile | more photo | home |